---
Afghanistan won't bow to US "pressure" over security pact -official
Source:
Reuters
By:
DYLAN WELCH
A senior aide to Afghan President Hamid Karzai accused the United States on Friday of trying to pressure elements of his government to accept a security deal that would shape the post-2014 U.S. military presence in the country.
The bilateral security pact (BSA) was thrown into doubt last month when Karzai said he would sign only if new conditions were met, and even then only after April elections.
If the pact is not signed Washington says it will consider a complete military withdrawal from Afghanistan, which remains embroiled in the insurgency of the Islamist militant Taliban.
Failure to sign could could also put Western aid running to billions of dollars in serious jeopardy, exposing the central Asian country's shaky economy to collapse.
U.S. Secretary of State John Kerry, National Security Advisor Susan Rice and Washington's top diplomat for Afghanistan and Pakistan, James Dobbins, have all visited Karzai recently to convince him to sign by the end of the year.
"There is no doubt that certain elements within the Afghan government are facing pressure from the U.S. However, this will not achieve anything," Karzai's spokesman, Aimal Faizi, told Reuters in an emailed statement.
"If there is a perception in Washington that certain elements in Kabul can force President Karzai to succumb to any pressure, it is seriously flawed and mistaken."
Faizi declined to elaborate on who these "elements" were.
Robert Hilton, spokesman for the U.S. embassy in Kabul, declined to respond, only repeating that it was the view of the United States that signing the document "promptly" was in the interests of both countries.
There are 47,000 U.S. troops in Afghanistan. The United States has been in discussions with Afghan officials about keeping a residual force of about 8,000 troops after the end of the NATO combat mission next year.
On Wednesday Karzai reacted angrily to a comment by Kerry at a NATO meeting in Brussels that the Afghan defence minister, Bismillah Khan Mohammadi, could sign the document instead of the president.
A year-long negotiation over the text of the document was thought to have been concluded last month when an assembly of Afghan tribal elders and politicians, called a loya jirga, approved the pact. But Karzai surprised everyone during concluding remarks by saying he still had important demands.
They relate to a desire for the United States to kick-start a nascent peace process with the Taliban, and an end to raids on Afghan homes by U.S. forces pursuing militants.
"We cannot allow business as usual for the U.S. after the signing of the BSA," Faizi said. "It simply cannot be another ten-year chapter of raids on Afghan homes, civilian casualties and seeking peace in Afghanistan."
On Thursday, influential U.S. Democratic Senator Carl Levin questioned the Obama administration's insistence that Karzai was the appropriate person to sign a security deal, and by the end of 2013. [ID: nL2N0JK26J]
In a letter to U.S. President Barack Obama, Levin suggested Washington wait for a "more reliable" leader to take office.
---
Gunmen kill female police officer in western Afghanistan
Source:
Khaama Press (KP)
By:
GHANIZADA
Unknown gunmen killed a female police officer in western Nimroz province of Afghanistan, local officials said.
Acting provincial security chief Gen. Abdul Rahim confirming the report said the female police officer was killed by unknown gunmen in Zaranja city on Thursday.
Gen. Abdul Rahim further added that the daughter of the police officer along with her two other family members were injured following teh attack.
No group including the Taliban militants has so far claimed responsibility behind the incident. In the meantime, acting provincial security chief Gen. Abdul Rahim blamed the anti-government armed militant groups for her death.
Militants frequently target Afghan national security forces across the country, where Afghan female police officers have also been the victim of such attacks.
A senior female police officer, Islamabad Bibi was shot dead by unknown gunmen in Lashkargah city in southern Helmand province of Afghanistan earlier in July this year.
Militants also shot dead another senior female police officer in Lashkargah city earlier late in September.
---
Emirates Airline starts flights to capital Kabul
Source:
Khaama Press
By:
GHANIZADA
The Emirates Airline started daily flights between Dubai and Kabul with the commencement of its first flight which touched down in Kabul International Airport on Wednesday afternoon.

Emirates flight EK 640 which left Dubai at 9:55 local time, arrived in Kabul at 1:30 pm, which was warmly welcomed by a delegation of high level government officials in Kabul International Airport.

The delegation included Afghan Transport Minister, Dr. Daud Ali Najafi, Technical and Operations Deputy Minister Captain Hamid Zahir Ustaz, Deputy Informatoin and Culture and Tourism Minister Ghulam Nabi Farahi, Chief of Staff in the Ministry of Foreign Affairs Malik Quraishi, and Emirates Area Manager in Afgahnistan Allahnoor Sailab.

Afghanistan became the 78th country and 138th destination where Emirates Airline proivde services. Emirates claims it is the only carrier to offer first class on the route between Kabul and Dubai.

An Airbus A340-500 configured in a 3 cabin configuration, offering 12 First Class, 42 Business Class and 204 Economy Class seats, will provide services on the route.

The Afghanistan based Safi Airways and Dubai airline were also operating on the same route.
---
10 year minimum jail sentence for Royal Marine Sgt Alexander Blackman guilty of murdering Afghan insurgent
Source:
By:
A Royal Marine commando filmed killing an injured Taliban captive received a life sentence today and was warned he would serve at least 10 years in prison.
Sergeant Alexander Blackman, 39, was told he had disgraced the name of the British armed forces by murdering the Afghan fighter and had put other soldiers' lives at risk by his actions.
Blackman was convicted last month at a court martial board of murdering the man and was also dismissed in disgrace from the marines after 15 years' previously unblemished service.
The killing in Helmand Province in September 2011 was only discovered after it was filmed by a camera mounted on the helmet of a fellow marine.
Blackman shot the injured captive in the chest at close range with a 9mm pistol before quoting a phrase from Hamlet as the Afghan died before him.
He told the insurgent: "Shuffle off this mortal coil, you c***. It's nothing you wouldn't do to us."
Blackman, whose identity was revealed two days ago, then turned to two comrades and said: "Obviously this doesn't go anywhere, fellas. I just broke the Geneva Convention."
The witnesses, known only as Marine B and Marine C, were cleared of murder by the court martial.
The sentence was passed down by a seven-man court martial board and Judge Advocate General Jeff Blackett.
Blackman stood to attention to receive his sentence as the judge told him: "This was not an action taken in the heat of battle or immediately after you had been engaged in a firefight.
"Nor were you under any immediate threat. The video footage shows you were in complete control of yourself, standing around for several minutes and not apparently worried that you might be at risk of attack by other insurgents.
"You treated that Afghan man with contempt and murdered him in cold blood. By doing so you have betrayed your corps and all British service personnel who have served in Afghanistan and you have tarnished their reputation.
"In one moment you undermined much of the good work done day in day out by British forces and potentially increased the risk of revenge attacks against your fellow service personnel."
Blackman was then marched out to begin his sentence, which will be served in a civilian prison.
At the court martial he had denied murder, admitting he fired his gun out of anger but insisting the captive was already dead. He blamed a "stupid, lack of self-control" for shooting at the insurgent and "foolish bravado" for quoting Shakespeare at the dying man.
Blackman had completed tours of Iraq, Afghanistan and Northern Ireland during 15 years' service in the Royal Marines.
He was considered a safe pair of hands by his superiors and credited with building good relations with the local population in Afghanistan. He was being considered for promotion to colour sergeant before the incriminating video came to light.
The Lord Chief Justice, Lord Thomas, this week overruled pleas from his legal team for his identity to remain secret in order to protect his family.
His solicitor said he was "devastated" by the sentence and wanted to apologise for any damage to the Royal Marines from his actions.
The Ministry of Defence said it had followed an independent legal process. It said: "We respect the authority and decision of the court and it would be inappropriate of us to comment on the sentence."
---
Probe Re-Launched into Unused US Afghanistan Facility
Source:
Newsmax
By:
Melissa Clyne
An inspector general has re-launched a probe into why $34 million was spent on a military facility in Afghanistan that was never used and will be demolished or turned over the Afghan government once U.S. forces pull out.
John Sopko, special inspector general for Afghanistan reconstruction, says questions asked about the facility at Camp Leatherneck were never answered by military brass in his original inquiry.
"American taxpayers aren't getting the accountability they deserve,"
Sopko said in a letter to Defense Secretary Chuck Hagel and other Pentagon officials informing them of his decision, Fox News reports.
Last summer, Sopko stalled his investigation amid assurances by Pentagon officials that it was conducting its own investigation into the expensive, so-called "white elephant" facility, The Washington Post reports. But Sopko never got the answers he was looking for and the Army major general who wrote the military's report justified the need for the massive complex as an "enduring base."
The Post reported that the windowless, 64,000-square-foot headquarters building in southwestern Afghanistan is equipped with "all the tools to wage a modern war," including tiered seating, a briefing theater, spacious offices, fancy chairs, and powerful air conditioning. But military commanders there have no plans to ever use it.
Construction began when President Obama announced the surge in southern Afghanistan in 2009. Military commanders in the field said then that they didn't want or need it and say now that with the withdrawal of troops, there's no reason to move operations there.
"For many senior officers, the unused headquarters has come to symbolize the staggering cost of Pentagon mismanagement: As American troops pack up to return home, U.S.-funded contractors are placing the finishing touches on projects that are no longer required or pulling the plug after investing millions of dollars," the Post reported.
Sopko has said the facility, which he characterized as one of the best constructed buildings in the country, is too big for the few hundred troops remaining in the region.
"Unfortunately, it is unused, unoccupied, and presumably will never be used for its intended purpose," he wrote. "Military officials explained that this is an example of what is wrong with military construction in general — once a project is started, it's very difficult to stop."
---
Afghan Issue, N-Cooperation on Foreign Secy's Agenda
Source:
Outlook India
By:
Situation in Afghanistan amidst NATO combat troops withdrawal and civil nuclear cooperation would be among the priority issues when the Foreign Secretary travels to the US from December 8 for consultations with top American administration officials.
Foreign Secretary Sujatha Singh's four-day visit comes in the backdrop of India raising with the US the issue of American intelligence snooping over it. New Delhi is understood to be "unsatisfied" with the response of the US Administration so far.
Apart from co-chairing the Foreign Office Consultations with her counterpart Wendy Sherman, an important part of the Indo-US dialogue structure, Singh will hold talks with US Acting Undersecretary of State for arms control and international security Rose Gottemoeller, Spokesperson in the Ministry of External Affairs said here today.
He said Singh will also hold talks with senior US officials from Energy, Defence and Commerce departments.
On whether the snooping by the US intelligence will figure in the talks, a top government source said there was an ongoing discussion between India and the US on various issues and all matters which were "current, relevant and that are to be followed from the Summit-level meetings" will be discussed during the meeting.
This will be Singh's first "full-fledged introductory visit" to the US which will familiarise her with the US' viewpoint on key and strategic issues and also help American interlocutors in understanding her perspective, sources said.
Apart from taking stock of status of bilateral ties, the two sides will discuss key regional and international issues including security situation in war-torn Afghanistan.
The visit will also help India to raise issues relevant to it including cooperation in energy sector, the sources said.
Indo-US energy cooperation encompasses both nuclear and conventional means. While work is progressing on the Early Works Agreement between Nuclear Power Corporation of India Ltd and US' Westing House, there is already a proposal for supply of shale gas to India from a US company from 2017.
Other strategic areas of cooperation include security, defence and counter-terrorism.
There is also a standing demand from India for further access to Pakistani-American terrorist David Headley, who conspired with the Lashkar-e-Taiba and Pakistani intelligence officers in plotting the 2008 Mumbai attack.
---
In Afghanistan, People Died for No Good Reason
Source:
Reason
By:
Sheldon Richman
And keeping the troops there won't change that.
Last week a remarkable exchange about the future role of the U.S. military in Afghanistan took place on the MSNBC program Andrea Mitchell Reports. In a discussion of the U.S. government's uncertain negotiations with Afghan President Hamid Karzai over the continued presence of U.S. troops beyond 2014, NBC's chief foreign correspondent, Richard Engel, pointed out that, between the Karzai talks and the negotiations with Afghanistan's next-door neighbor Iran, the Obama administration has a daunting task.
Part of the administration's objective, Engel said, is
to protect the legacy of America's longest war. For a lot of the soldiers we've been speaking to, this is personal. They've come here time and time again. They've invested so much. They've put their family lives on hold. They've lost friends here. So the collapse of Afghanistan would be in a certain way a personal affront to what they have done. So you also have to keep the investment, personal and otherwise, that the United States has put into military into this conflict — and that's also part of this calculation.
To which the show's host, Chief Foreign Affairs Correspondent Mitchell, replied, "That's probably the most important part of the calculation."
Seriously? The most important part of the calculation as to whether the U.S. military will continue to occupy Afghanistan is what American military personnel have lost in the past 12 years? In the business world, that's called throwing good money after bad. In economics, it's known as sunk costs. The past is gone. Any action is future-oriented. The right question is, What would be the consequences of continued military occupation? Additional killing and dying will not bring back the dead or restore lost time, nor will it make the losses worthwhile.
Engel and Mitchell of course are not policymakers, but they are faithful conduits for the thinking of the ruling elite. So this exchange is not to be taken lightly.
Since the U.S. invasion in 2001, the Associated Press reports, at least 2,153 American military personnel have been killed. Asia scholar Juan Cole reports that 19,415 Americans were "wounded in Afghanistan badly enough to go to hospital."
Afghan casualty data are harder to come by, and in recent years most casualties have apparently been inflicted by Taliban insurgents. Yet journalists Bob Dreyfuss and Nick Turse write, "But it's an unassailable fact that many of those killed by anti-government forces would almost certainly be alive had the United States never invaded. And the victims of US forces and other foreign troops number in the many thousands."
What good is there to show for that loss and shattering of life? Nothing. Afghanistan remains a violent place, nominally ruled by a corrupt and repressive propped-up government that will remain precarious no matter how long the U.S. military stays. President Karzai regularly gets bags of CIA cash, the illegal drug trade thrives with official connivance, and stoning is about to be introduced as the penalty for adultery.
The Taliban, which reigned before the U.S. invasion and still is conducting an unrelenting insurgency, was never a threat to the American people. (The U.S. government was on its side after the Soviets invaded the country.) The organization that was a threat, al-Qaeda, did not plot the 9/11 attacks in Afghanistan and has since spun off affiliates in Iraq, Syria, Somalia, Libya, and the Arabian Peninsula. Moreover, the threat was a direct consequence of decades of U.S. intervention in the Muslim world. If there had been no American empire, there would have been no 9/11 attacks, nor would there have been any of the acts committed by al-Qaeda against the U.S. government before 2001.
What this means is that the sacrifices of America's military personnel — not to mention the war crimes committed against the Afghan people — were for no good reason whatever. It would be wrong, however, to say they were for no reason at all. Many Americans in and out of government have garnered immense wealth and power thanks to U.S. policy in Afghanistan, Iraq, and elsewhere. War is a racket.
American forces should be withdrawn at once, for the sake both of the Afghan people and of the U.S. personnel, who are abused by America's rulers. We can only hope that Karzai refuses to sign a new agreement with the Obama administration, so that this long nightmare can come to an end.
---
Military watchdog to re-open probe of $34M facility built in Afghanistan but never used
Source:
FOX News
By:
Perry Chiaramonte
The independent auditor who postponed a probe into a $34 million "white elephant" of a military facility the Pentagon built in Afghanistan over objections from top leaders is reopening his investigation.
Special Inspector General for Afghanistan Reconstruction John Sopko delayed his initial probe last summer, after the Pentagon vowed to investigate why millions were apparently wasted on the hulking headquarters at Camp Leatherneck in southwestern Afghanistan. But Sopko said defense officials have not addressed concerns he initially raised, leaving him no choice but to restart his inquiry.
"Following delivery of my July letter, I was advised that an investigation into the facts and circumstances surrounding construction of the building was ongoing, and upon its completion answers to my questions would be forthcoming," Sopko wrote Secretary of Defense Chuck Hagel and other military heads. "Accordingly, I delayed my investigation of this matter assuming a speedy and fulsome review by your staff."
But all Sopko said he ever got from the Pentagon was documents regarding an Army probe of the 64,000-square-foot building, which he said "raises additional questions, and has prompted my decision to restart SIGAR's investigation."
Sopko also charged in his letter that the Army report did not respond to his initial inquiry and that it did not address any of the issues raised about the building at Camp Leatherneck and that it lacked transparency.
Maj. Gen. James Richardson, who conducted the Army report, determined that building the facility was justified as the southwestern region of Afghanistan needed an "enduring base."
But Sopko has maintained that the building is too large for the few hundred U.S. troops remaining in the region.
"This is a white elephant that the Marines said they don't want and don't need," Sopko said in a statement to FoxNews.com "It's frankly a mystery to us why the Army would want to continue pouring money into this. "That's why we're re-launching this investigation -- because American taxpayers aren't getting the accountability they deserve."
Last July the Washington Post reported on how Sopko's first inquiry to Hagel and other military leaders had exposed the problems and that the construction of the building continued for years despite warnings that it was not needed.
At the time, the military stated that it would conduct its own probe of what went wrong, and try to figure out what to do with the empty facility.
"The building will probably be demolished, or possibly give it to the Afghans, but doing so would require another major overhaul," Sopko said then.
Sopko and others are raising alarm at the fact the project continued despite the diminishing need for it and the Army suggestion in their report that the facility should have even more funding pumped into it.
Sopko said in his July letter that the empty facility appeared to be one of the "best constructed" buildings he's seen in the country.
"Unfortunately, it is unused, unoccupied, and presumably will never be used for its intended purpose," he said. "Military officials explained that this is an example of what is wrong with military construction in general -- once a project is started, it is very difficult to stop."
The project started after President Obama ordered a surge in southern Afghanistan in 2009. Planners wanted to install a sophisticated facility.
Yet a top commander later sent U.S. headquarters in Kabul a memo, according to the Post's July report, telling them the building was not needed and that the warning was ignored by contract officers.
"What the hell were they thinking?" a two-star Army general, who was not named, told the Post at the time.
---
Freed Taliban Prisoners in Pakistan and Afghanistan Return to Jihad
Source:
The Daily Beast
By:
Ron Moreau & Sami Yousafzai
Pakistan and Afghanistan have released waves of Taliban prisoners in a goodwill gesture—but instead of returning home as promised, the radicals are flocking to rejoin the fight against the West.
Abdullah never gives up. The senior Taliban commander, who goes by one name, lost a leg in the fighting in late 2001 just as Mullah Mohammad Omar's forces were collapsing. He was captured and sent to the U.S. lockup at Guantanamo Bay, Cuba. Released from the Cuban prison in late 2005, he was immediately rearrested when he arrived in Pakistan and spent the next five years in a Pakistani jail run by the powerful Inter-Services Intelligence (ISI) agency. After nearly a decade behind bars, he was released in 2010 and quickly became the insurgency's overall commander for the strategic region of southern Afghanistan. Pakistan's release of Abdullah and of some two dozen other important Taliban prisoners in late 2012 was meant as a goodwill gesture to Kabul. Afghan President Hamid Karzai's government has been lobbying Islamabad hard to get it to release top insurgent inmates like Abdullah as a means of luring the Taliban into peace talks. In theory, the freed prisoners were to rejoin their families, most of whom live in Pakistan, and to serve as harbingers of peace—not return to the 12-year-old jihad against the U.S. and Kabul.
That strategy seems to have backfired badly. So far the prisoner releases seem to have only succeeded in funneling commanders and fighters back to the fighting. Once freed, Abdullah and a slew of recently released Taliban inmates have made a beeline back to the battlefield. Abdullah tells The Daily Beast exclusively that he is now more committed than ever to the jihad. "We are born for jihad and can't sleep without the jihad," he says, after just returning from the front lines in southern Kandahar Province. "Long imprisonment hasn't slowed down our momentum, resistance and commitment to the fight." He says he is not grateful to Pakistan or Kabul for his release. "I'm not thankful to Karzai and my enemies in Pakistan for releasing me," he says. He flatly rejected the verbal restrictions Pakistan put on him and the other prisoners when they were released: that they not return to the fight. "None of us would ever accept any conditions or restrictions that would keep us from fighting," he says.
Even given the lack of success in keeping fighters out of the fray, Pakistan's release of insurgent prisoners has continued. So far this year, at least 40 imprisoned Taliban of both senior and junior ranks have been freed. But the releases don't seem to have won any Taliban hearts and minds—or to have induced the Taliban leadership to move any closer to peace talks. Any hope for a dialogue was further set back this past summer when the Taliban opened a quasi-embassy in Qatar as a venue for the fledgling talks, a move that provoked a furious Karzai to cancel any further official contacts with the Taliban.
Meanwhile, many of the more than 60 prisoners like Abdullah, who have been released over the past 13 months, seem to have quickly returned to the insurgency after brief visits with their families in Pakistan. "The priority is jihad not family and kids," says Abdullah. A senior Taliban intelligence officer tells The Daily Beast boastfully that "almost all of the freed prisoners never lost faith in the jihad despite the hardship of prison and are back enjoying the struggle." His unscientific guesstimate is that 80 percent of the released insurgents have rejoined the fight. As he points out, two the Taliban's top commanders—Abdul Qayyum Zakir and Abdul Rauf Khadim—were both released from Guantanamo Bay some six years ago and are now directing the fight.
An Afghan government intelligence officer who is charged with following some of the recently freed Taliban expresses his disappointment at the results of the releases. He says Mullah Muhammad [he has no first name], a former insurgent shadow governor of northern Baghlan Province, was arrested in early 2010 along with Mullah Mohammad Omar's deputy, Mullah Abdul Ghani Baradar. After more than three years, Muhammad was freed from a Pakistani jail this past summer and is now a member of the insurgency's governing council, the Quetta Shura, and has returned to running guerrilla operations in Baghlan once again. "We had been expecting them to be nice and to help restart the talks but so far we have not received any positive signals," the Afghan intelligence officer says dejectedly.
"The priority is jihad not family and kids," says Abdullah.
Mullah Muhammad is but one of many. Mullah Abdul Bari, 45, a senior commander in southern Helmand Province, was arrested in Quetta five years ago during a night raid on his house by the ISI and spent hard time in the notorious Pakistani prison at Mach in Baluchistan Province. According to Bari's close friend and fellow officer, Mullah Abdul Salam Khan, Bari was freed earlier this year at about the same time as another insurgent operative Mullah Nuru Din Turabi. "Bari had a black beard when he was arrested," Salam Khan says. "But during that time in hell in Mach his beard turned pure white." After his release Bari returned to his family for a few months to regain his health and then quickly rejoined the insurgency. "He started as an ordinary small commander," Salam Khan says. "Now he is in charge of eight large units on the Helmand front."
Salam Khan recalls Bari telling him after he was released that he has no regrets. "Jails, torture and suffering won't change our jihadist commitment," Bari told Salam Khan. Salam Khan should know. He was captured in Pakistan in 2009 while he was the shadow governor of southern Kunduz Province and was finally released by the ISI five months ago. After a brief visit to his family in Pakistan, he is now serving as the shadow governor of the key northern province of Balkh.
Another fast-rising former prisoner is Mullah Sadar Ibrahim. A former senior commander who was close to Mullah Omar, Ibrahim had been languishing in Pakistani jails for the past five years. He was released in late 2012 and has quickly garnered the senior posts of commander for military operations in several southern provinces, the Taliban's former heartland, and is now also the deputy chief of the Quetta Shura's important military council. Mir Ahmad Gul, the former shadow governor of Logar Province, just south of Kabul, who was recently freed after several years in a Pakistani prison, has been appointed shadow governor of the strategic region abound the eastern city of Jalalabad. Kabul, too, has been releasing Taliban prisoners with largely the same disappointing results. Two senior commanders named Abdul Wasai and Mullah Qasim Akhund were freed by Kabul last year. Both men had been imprisoned in the sprawling Pul-e-Charki jail near Kabul for several years and are now respectively serving as shadow governors of Kandahar and Ghazni Provinces. "Some of these former prisoners are now in key senior posts and many more have returned to being fighters and facilitators for our cause," says the senior Taliban intelligence officer.
The Taliban intelligence officer says almost all of the former prisoners report that they experienced mental and physical suffering while in Pakistani custody. But he says those Taliban prisoners who were incarcerated in Afghan prisons serve relatively easier time than those held across the border by the ISI. Prisoners in Afghan jails, even Taliban, can periodically receive visits from their families and may even enjoy some protections under the Afghan justice system. In Pakistan, the intelligence officer says, Taliban prisoners simply disappear into a black hole with no possibility of contacting their families and no protections under the Pakistani constitution. "All of these men have been kidnapped by the Pakistanis," he says. "It's as if they no longer exist." Not surprisingly, he adds, the released prisoners have little but hatred for their former jailers. "None of these men is going to join Karzai or stop contributing to the jihad," he says. "They are now more committed to the fight than ever."
While none of freed Taliban prisoners has brought the insurgents any closer to the negotiating table, Karzai seems to be obsessed with the belief that at least one prisoner, Mullah Baradar, Mullah Omar's former number two, can somehow orchestrate a breakthrough. Baradar was arrested by the ISI in early 2010. Ever since then Karzai has been pushing Islamabad hard in order to gain access to him. Finally, reacting to Kabul's entreaties, the ISI nominally released him this past September, but he apparently remains under house arrest in Pakistan. Late last month on a brief visit to Kabul, Pakistani Prime Minister Nawaz Sharif, reacting to Karzai's insistence, agreed to allow members of Kabul's High Peace Council, the entity Karzai has designated to negotiate with the insurgents, to meet with Baradar in Pakistan. But after four long years in Pakistani custody it is unclear how much clout or credibility, if any, Mullah Omar's brother-in-law retains with top insurgent decision makers in Quetta.
Afghanistan is betting heavily on Baradar as the key to peace talks. But this gamble may turn out to be just as big a loser as have all the hopes that Kabul has placed on prisoner releases so far.

---
Addicted and hopeless in Afghanistan's Herat
Source:
Al Jazeera
By:
Ali M Latifi
Herat, Afghanistan - When Mariam's sister-in-law told her to place her hands on the Quran, she felt a sense of calm that only faith and family could provide.
Her sister-in-law looked her in the eyes and told her: "What I'm going to show you can't tell anyone."
Mariam had put on weight after migrating to Iran, and she was relieved to discover something that would lessen the mental and physical anguish this was causing her.
"Here," her Iranian sister-in-law said, holding up a powdery white substance to Mariam. The substance was podar, or heroin. Within four days of trying it, Mariam said she found herself hooked. More than three years later, when was she deported back to her native Afghanistan, Mariam still couldn't shake the habit.
In Afghanistan's western Herat province, Mariam - now a skinny and frail woman whose rough, dark skin belies her 37 years - soon found herself amid a community of fellow drug users. The province, which shares a border with the Iran, is home to an estimated 60-70,000 of Afghanistan's 1.6 million drug users, according to Afghanistan's anti-narcotics ministry.
Mariam's story is anything but unique to the nearly 400 other people roaming around the squalid shantytown of Kamar Kala, located just one kilometre outside Herat City. Like Mariam, many in the makeshift community became addicted to drugs while migrants in neighbouring Iran.
For Nasir, 37, it was the fatigue from his work as a day labourer on Iranian construction sites that led him to drugs. "If you give me a blueprint I, could erect the entire building from top to bottom on my own," Nasir said proudly of his 21 years of experience.
Despite his aptitude, Nasir, like the rest of his Afghan compatriots, was quickly relegated to manual labour. After months of hearing Nasir complain about the exhaustion and physical pain he suffered at the end of each day, his Iranian friends introduced him to tariyak, or opium. Soon he became dependent on the narcotic, but as the years passed it wasn't enough. Nasir moved on to using crystal methamphetamine and eventually heroin.
Though Afghans often complain of ill-treatment while in Iran, Nasir was more positive about his time there. He said in the year that he has returned to Afghanistan his addiction has only intensified. "In Iran I wasn't on a constant 24-hour search for the next high. I had a job that kept me busy, but here, what do I have?"
A dangerous combination of low prices, both Nasir and Mariam said they could feed their habits on less than two dollars a day, Afghanistan's double-digit unemployment rate and the Afghan police's relatively lax stance towards drugs prevent many Afghan migrants from weaning themselves off drug use.
Though many of the Kamar Kala residents are from other Afghan provinces, shame, a lack of economic prospects and the threat of attack mean most of the residents are stranded in Herat.
"I would give anything to return to Kunduz, but how would I?" asked Massood, 25, who says the three-day journey would involve passing through areas where the Taliban is very active. Massood's re-integration into Afghan society is further complicated by the fact that he was born a refugee in Iran.
Massood echoed complaints often lodged against Afghanistan's Ministry of Refugees and Repatriation, saying not only have they done little for returnees, but that they have also not made their presence known. "I wouldn't even know where to go to get a tazkireh [Afghan national ID]. I'm Afghan, not Irani, but who do I tell that to?"
Aside from the journey's dangers, Massood has another reason not to return to his home province. Sitting outside one of the makeshift homes that dot Kamar Kala - made of sandbags stacked atop one another and covered by a cloth tent - Massood is approached by other addicts who ask him for money to buy food.
Asked how he makes money, Massood only says that he has "a job" in the community. As his visibly disoriented visitors venture back into the house where they get high, Massood becomes increasingly forthcoming. He says he has become a drug dealer, taking advantage of lax enforcement: Kamar Kala residents say police often leave them alone after paying a bribe of 50-100 afghanis ($1-2).
With tens of thousands of addicts in Herat alone, Massood stands to make swift profits from the sale of narcotics.
Still, for Afghan migrants who went to Iran in search of economic opportunity, the community they have formed in Kamar Kala does little to counter the shame many feel for not only "failing" in Iran, but returning as addicts.
"There were no drugs in Bamiyan before. The most anyone would do is naswar, chewing tobacco, or a little tariyak from time-to-time," said Nasir, the construction worker, about his home province.
Though he is one of the few Kamar Kala residents with an income and a sense of authority, Massood is glad that his Iranian wife and children are staying in Iran along with his mother. "They would disown me if they saw me in this state," he says, looking at four of the unmarked graves where addicts from the slum have been buried.
---
Highway 1 shows the difficulties ahead in Afghanistan
Source:
USA TODAY
By:
Victor Blue
Insurgent attacks are regular occurrences on the strategic highway, and there is a question whether Afghan forces will ever be able to secure it.
SOLTAN KHEYL, Afghanistan — Light, pale dust trail several U.S. soldiers as they head past twisted and blackened tanker trucks on Highway 1 in search of the insurgents who set them on fire.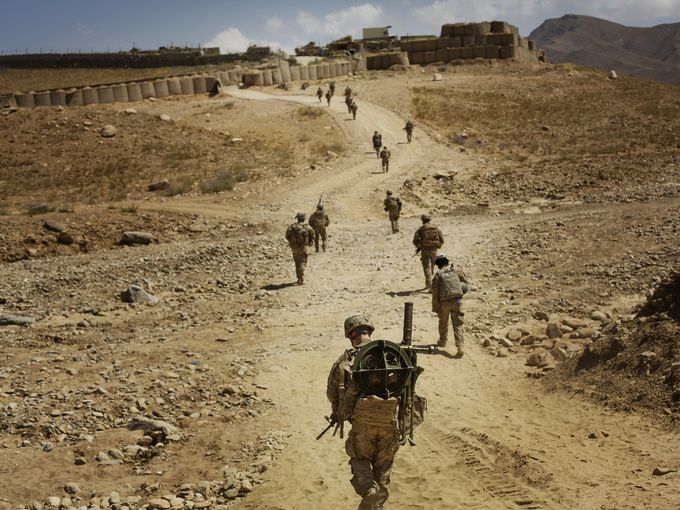 Coming upon a stand of thin trees in the village of Haft Asyab, the soldiers ask the Afghan police officers with them to search it. An Afghan commander sitting along the road says there is no need, his men have already done so.
First Platoon leader Lt. Frank Piasta stands over him. "Tell him I watched him. They didn't search these trees," he says to his interpreter.
But the Afghan commander doesn't budge. The Americans search the area themselves. Hidden in the grass they find two rocket-propelled grenades.
Highway 1 is more than just a dusty asphalt road. It is a lifeline for families, troops and businesses that connects strategic Wardak province to the Afghan capital of Kabul.
It is supposed to be an example of the success of the 12-year effort by multinational forces to end Taliban control and showcase the ability of the Afghans to handle their own security. But insurgent attacks are regular occurrences, and there is a question whether it can ever be ready for a withdrawal of U.S. troops ordered by President Obama to be completed by the end of 2014.
"Highway 1 is still the issue," says Col. Kimo Gallahue, commander of the Army's 4th Brigade of the 3rd Infantry Division.
A recent epidemic of Taliban attacks on NATO fuel convoys along Highway 1 has slowed the pace of the U.S. withdrawal from Wardak and acts as a constant reminder to Afghan and U.S. forces that the Taliban has not been defeated.
The U.S. special representative for Afghanistan and Pakistan, James Dobbins, said Thursday that Afghan President Hamid Karzai has tentatively endorsed a deal to allow some U.S. troops to remain after 2014 for added security but has yet to sign it.The deal was approved by a council of tribal elders known as the Loya Jirga.
"On the security agreement we really did not make any progress. It was a restatement of the known positions. I explained why we thought it was important to remove the anxiety and uncertainty around this as quickly as possible," Dobbins told the Associated Press.
Meanwhile, having closed some bases in preparation for a pullout, the U.S. military has been forced to send more troops to Highway 1 to combat a resurgence of violence.
Wardak was a centerpiece of the U.S. troops surge ordered into the country by Obama in 2009. It was the first province to receive surge troops, and Gallahue was one of the first surge commanders to lead a battalion to retake the province from Taliban control.
Now, Gallahue has returned here as commander of the 4th Brigade to maintain security on Highway 1 and oversee the drawdown of forces. It has not been uneventful.
Every few days, convoys of fuel tankers and supply trucks head along Highway 1 to bring fuel and supplies from Bagram Airfield outside Kabul south to Kandahar province.
A semi-official militia called the Afghan Public Protection Force maintains security for the convoys. But the militia can't, or won't, confront attackers who regularly target the trucks as they pass through the villages of Salaar and Haft Asyab.
Both areas are under the protection of Afghan police, soldiers and Gallahue's troops. The insurgents divert the trucks, steal their fuel and set them ablaze. Columns of smoke visible for miles are a usual sight, done to signal to residents that the Afghan National Security Forces cannot protect them.
"There is benefit to them from trucks burning on Highway 1," says Gallahue. "It is a symbol of insecurity."
As the summer fighting season began, the Taliban came out hard on Highway 1. Surprised by the attacks, the U.S. military moved an additional company of soldiers into southern Sayedabad district. Packed with troops, Combat Outpost Soltan Kheyl soon looked more like a base at the height of the surge rather than a drawdown.
Through the summer at least 10 Afghans and seven U.S. soldiers have been killed here, according to U.S. military forces.
Mindful of the subordinate role U.S. troops have been given recently, Gallahue's officers have spent much time advising the local Afghan army battalion. Effectiveness against insurgents is a concern, the military says.
Maj. Rob Howard arrived in May to help turn things around with a new Afghan battalion leader, Col. Mulinkadin, who he saw as effective and aggressive. Under Mulinkadin (many Afghans go by one name), the Afghan army spread into the villages. Highway attacks went down. Mulinkadin's Afghan superiors relieved him of duty, and things got worse again.
"I was angry because there's been a lot of good work out here," Howard says. "The week after Mulinkadin left, we had back-to-back convoys, both of them hit pretty hard, combined total of 44 trucks burned, in about 10 days."
Howard suspects there's some collusion between the Taliban and members of the Afghan police force posted in the region, given the attacks are so close to the police bases.
"Now do I know for a fact? Not really," he says. "But if it's time and time and time again there's either incompetency or there's collusion."
It's not just Taliban marauding over the highway. The black market trade in stolen fuel is an inducement to thieves as well.
Howard also suspects that some of the tanker thefts involve corrupt Afghan forces.
"Our priorities are different from those leaders whose number one focus is, 'How do I make money today?'" he said. "But at the end of the day, the thing that's really going to make this place successful is good, honest leaders, who care more about the people they are leading than themselves."

Rohsanak Wardak agrees.
Wardak is a former member of parliament representing Sayedabad and one of Afghanistan's rare female physicians. As the head of a small clinic in the district, she treats civilian victims caught in the crossfire and says she sees corruption as well.
"I was going to my house from Kabul and there was a tanker," she says. "Two policemen went to the other side of the road, and they fired on the tanker — I saw them. The oil was coming out like from a tap, and he tells the people that the Taliban fired on the tanker. Then the people came with their big plastic barrels, and they bought the oil from the police."
Wardak says Afghan forces need to patrol more actively and fight more responsibly.
"They don't protect the road, they don't protect the villages, the civilians," she adds.
One hot afternoon, a pickup truck at the head of a convoy speeds down the road. Standing in back, wrapped in a scarf, is a gunner for the Afghan Public Protection Force militia.
A prime target for attack, the tankers in the convoy pass by the soldiers of First Platoon at the checkpoint in Haft Asyab. Another platoon waits farther down the road. Afghan soldiers are positioned in the villages and flying overhead are two A-10 fighter jets, which can pass low and strafe vehicles and buildings with automatic cannon fire. This time the jets fire flares to intimidate would-be attackers.
The sweating soldiers keep sniper rifles trained on the green zone across the highway, waiting and watching. The trucks arrive slowly at first, some painted with Pashto poetry in feathery white script, then come in a flood, hundreds in all. They make it through without incident.
Capt. Padshah, a 32-year police veteran and the commander of the Afghan National Civil Order Police in Haft Asyab, isn't optimistic about the future here when Afghans are slated to take over security from the Americans.
"We think it's going to get worse," he says. "There's going be more firefights, there's gonna be more enemy, we are gonna lose a lot of people."
---
Afghanistan ready for 'historic' Pakistan clash
Source:
AFP
By:
SHARJAH: Afghanistan will get another boost as a fledgling cricketing nation when they play former world champions Pakistan for the first time in a Twenty20 international in Sharjah on Sunday.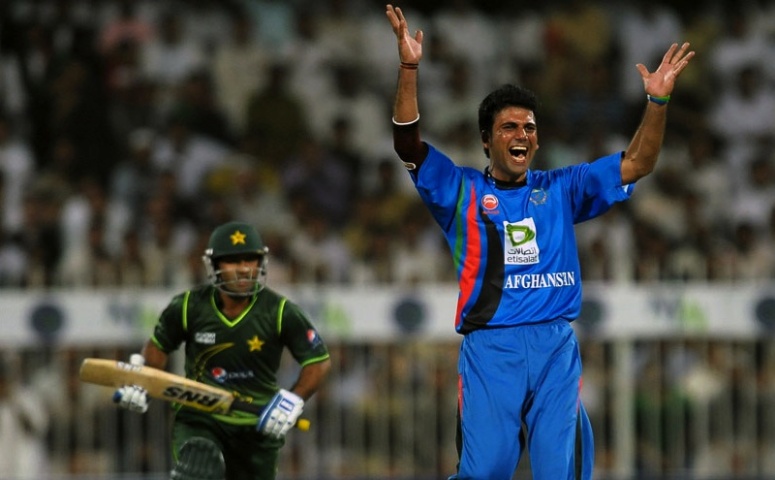 The Afghans learnt the game in Pakistan as refugees during the Russian invasion of their country in 1979 and have since had a fairytale rise in the game.
They received one-day status during their narrowly missed opportunity to qualify for the 2011 World Cup before progressing to two back-to-back World Twenty20 tournaments in 2010 and 2012, helping themselves to Associate membership of the International Cricket Council (ICC) this year.
The war-torn nation got a tremendous boost earlier this year when for the first time they qualified for the 50-over World Cup to be held in Australia and New Zealand in 2015.
Last month they once again lived up to their billing of one of the best Associate teams by qualifying for the World Twenty20 to be held in Bangladesh next year.
Afghanistan's Pakistan coach Kabir Khan said his team is hugely excited for Sunday's game.
"It will be a historic match for us," Kabir, who played four Tests and 10 one-days for Pakistan in 1990s, told AFP.
"Besides being historic, it will be a challenging match and if we do well then the world will take more notice."
Kabir said Pakistan have always provided his team with golden opportunities.
"Pakistan have helped us a great deal. They gave us a one-dayer last year," said Kabir of Afghanistan's first-ever ODI against a full ICC member last year in Sharjah, which Pakistan won by seven wickets.
That followed another one-dayer against Australia in September last year, which they also lost by 66 runs.
Sunday's Twenty20 will be Afghanistan's fifth against a Test playing country as they lost to India and South Africa in the 2010 World Twenty20 in the Caribbean and then went down against England and India two years later in Sri Lanka.
For Pakistan, Sunday's game will tune them for two tougher Twenty20s against world number one Sri Lanka in Dubai on December 13 and 15.
They also play five one-dayers and three Tests against the Islanders, also in the UAE.
Pakistan's T20 captain Mohammad Hafeez refused to take Afghanistan lightly.
"They are a dangerous side," Hafeez told AFP. "They have qualified for the 2015 World Cup and the World Twenty20 through hard work and since they are a dangerous side we will not take them lightly."
Pakistan have slipped to fourth in the T20 rankings after losing three of their last four games against South Africa.
They will miss the wily Saeed Ajmal in Sunday's game as the off-spinner opted to take a rest back home.
Hafeez admitted Ajmal, who has most T20 wickets (77 in 57 matches) will be missed.
"Ajmal is a world class bowler but his absence will give others a chance to take responsibility," said Hafeez, himself under pressure for his miserable batting form.
Teams (from):
Pakistan: Mohammad Hafeez (capt), Ahmed Shehzad, Sharjeel Khan, Sohaib Maqsood, Umar Amin, Umar Akmal, Shahid Afridi, Zulfiqar Babar, Bilawal Bhatti, Junaid Khan, Sohail Tanvir, Anwar Ali, Haris Sohail.
Afghanistan: Mohammad Nabi (capt), Merwais Ashraf, Hamid Hassan, Amir Hamza Hotak, Afsar Khan, Nawroz Mangal, Gulbadin Naib, Mohammad Shahzad, Asghar Stanikzai, Hashmatullah Shaidi, Samiullah Shinwari, Najeebullah Zadran, Shapor Zadran, Dawlat Khan Zadran, Izzatullah Dawlatzai.
Umpires: Ahsan Raza (PAK) and Shozab Raza (PAK) TV umpire: Zameer Haider (PAK) Match referee: David Boon (AUS)
---
End 'good' war in Afghanistan
Source:
By:
ROGER SIMON
The zero option should be a zero-brainer.
The zero option is a plan to leave zero U.S. troops in Afghanistan after December 2014.
The other option, which never has been named, could be called the "let's break our promise to the American people and keep 10,000-16,000 troops in Afghanistan until at least 2024 at a cost of $80 billion or so" option.
One would think the Obama administration would favor the zero option.
At a campaign rally in Boulder, Colo., on Sept. 2, 2012, President Barack Obama said: "We are bringing our troops home from Afghanistan. And I've set a timetable. We will have them all out of there by 2014."
Obama was running for re-election, and he knew that every word he said would be examined closely. So I thought that when he said "we will have them all out of there by 2014," he meant "we will have them all out of there by 2014."

Silly me.
Obama now wants to keep thousands of our fighting forces, plus NATO troops, in Afghanistan in four bases, where they can carry out counterterrorism missions and "instruct" (shades of Vietnam) the Afghan army.
Which means that the Afghanistan War — already the longest in U.S. history, at just over 12 years — will stretch to an incredible 22 years, at a minimum.
That is one long war.
The war in Afghanistan already has cost us about a half-trillion dollars. More than 2,000 Americans have been killed in hostile action, and more than 19,000 have been wounded. Thousands of civilians have been killed.
Our stated mission has been accomplished. Afghanistan is our "good" war. We invaded after the attacks of Sept. 11 in order to disrupt, destroy or disperse al-Qaida terrorists and topple the Taliban government of Afghanistan, which was sheltering them.
And we did it. We did it so successfully, in fact, that in 2010, then-CIA chief Leon Panetta said the number of al-Qaida members in Afghanistan had been reduced to "50 to 100, maybe less."
The Taliban are no longer in power in Afghanistan. A United Nations report released last month estimated that between 10,000 and 12,000 members of the Taliban had been killed, captured or wounded in the past year.
The report also said that 2013 had not seen "significant gains for the Taliban, who have neither managed to seize population centers nor gain popular support." And the Taliban have indicated some willingness to enter into peace talks and end the fighting.
So why don't we say "mission accomplished" and bring our troops home?
True, there are things our forces still could do in Afghanistan, such as counterterrorism, which is not to be confused with counterinsurgency. Counterinsurgency is when you try to win the hearts and minds of the enemy. Counterterrorism is when you kill the enemy and then try to win their hearts and minds.
Our mission that killed Osama bin Laden was counterterrorism. It was highly successful, though highly dangerous. (Bin Laden was sheltering in Pakistan, a country we pay $1 billion per year to conduct its own counterterrorism. But somehow the Pakistanis overlooked bin Laden year after year. Go figure.)
White House press secretary Jay Carney recently promised that if Afghanistan agrees to let us stay for the next decade or so, "you will not see U.S. troops patrolling mountains or cities."
But our troops will not be sitting around playing video games. They will continue to be in harm's way, and some will continue aggressive and dangerous missions. We will have casualties.
Afghan President Hamid Karzai says he would be happy to see us go, but I doubt it. The billions we lavish on him each year amount to half his government's expenditures.
Recently, he has been biting the hand that feeds him, but that is only because he wants to get fed more. He knows that the Obama administration does not want the zero option — it does not want to leave Afghanistan — so Karzai can talk tough.
"There is mistrust between me and the Americans," Karzai said in a speech a few weeks ago at Kabul Polytechnic University. "They don't trust me, and I don't trust them."
What does Karzai want? "We want the Americans to respect our sovereignty and laws and be an honest partner," he said. And then Karzai delivered his punch line: "And bring a lot of money." The crowd roared with laughter.
And why shouldn't they laugh at us? We are begging to stay and prop up one of the most corrupt governments in the world. In July, Transparency International released its annual "sleaze" ratings, and once again, Afghanistan, North Korea and Somalia tied for the most corrupt country on earth.
Is this the neighborhood we want to stay in? And fight for? And throw more money at?
We have achieved our goals in Afghanistan. We have won. It is time for our troops to come home.
If we stay for another decade, our good war could come to a very bad end.
Roger Simon is Politico's chief political columnist. His new e-book, "Reckoning: Campaign 2012 and the Fight for the Soul of America," can be found on Amazon.com, BN.com and iTunes.
---
Army general's report defends decision to build $36 million headquarters in Afghanistan
Source:
The Washington Post
By:
Rajiv Chandrasekaran
This past summer, the Army began investigating why the military spent nearly $36 million to construct a well-appointed64,000-square-foot headquarters in southwestern Afghanistan that commanders in the area did not want and has never been used.
The two-star Army general in Kabul who conducted the inquiryhas determined that the decision to commission the building was appropriate — and recommended that U.S. troops move in, after more work is done on the facility.
The finding has left some other senior military officers aghast.
"The Army built us an enormous white elephant, and now, to save face, we're being told to waste more money and time to move into it," said a senior Marine officer, who spoke on the condition of anonymity to comment on the investigation. "We don't need it. We're packing up there."
The Marine general in charge of the southwest said earlier this year that he wanted to stay out of the giant facility to "end the money drain."
Although the building — which contains spacious offices, a briefing theater and an operations center with tiered seating — can accommodate 1,500 people, only about 400 headquarters-level staff members are on the base today.
Still, the investigation by the Army general concluded that a fellow general's decision in 2010 to erect the massive structure at Camp Leatherneck, over the objection of a previous top Marine commander in Afghanistan, was justified. The decision reflected the U.S. Central Command's "strategic vision" for Afghanistan at the time, which anticipated an "enduring base" in southwestern Afghanistan.
That, however, appears to have been an erroneous assumption. The principal long-term force options the White House is considering — assuming Afghan President Hamid Karzai agrees to sign a bilateral security agreement with the United States — do not involve keeping Camp Leatherneck open a year from now.
Even if President Obama commits enough troops to staff Leatherneck, the units there would not require such a large and opulent headquarters, senior Marine officers said.
"I'm skeptical that throwing more money at this facility is going to serve our national security interests in any way," said Sen. Claire McCaskill (D-Mo.), a frequent critic of Afghan reconstruction projects. "At a minimum, we shouldn't spend an additional nickel unless the Army can show us a detailed and compelling cost-benefit analysis of the merits."
The investigation was conducted by Maj. Gen. James M. Richardson, the deputy commander of the U.S. troop-support headquarters in Kabul. Gen. Joseph F. Dunford, the top U.S. commander in Afghanistan, has not decided whether to accept the recommendation, said Col. Jane Crichton, a military spokeswoman in Kabul.
An earlier investigation, also conducted this year, found that the building "was neither wanted or needed," according to John F. Sopko, the special inspector general for Afghanistan reconstruction. That inquiry concluded that the edifice — which the military has deemed too large and complex to be given to the Afghan government — be converted into a gymnasium or a movie theater "so that it would not be a total loss."
The windowless building, which is larger than a football field, has been described by a two-star Marine general as "better appointed than any Marine headquarters anywhere in the world." A two-star Army general said the operations center is as large as those at the U.S. Central Command or the supreme allied headquarters in Europe.
Conceived in 2009, the lavish facility was the product of the United States' ambitious days in Afghanistan, when service members and dollars were flowing into the war zone and military officers believed they would maintain a troop presence there for decades. Plans for the building sailed through the Pentagon and funding for it was included in a supplemental appropriation to support a troop surge Obama approved.
The following year, however, the top Marine commander in the southwest, then-Maj. Gen. Richard P. Mills, determined that such a large building "was no longer necessary to execute the mission," the most recent investigation found. Instead, he asked for a 30,000-square-foot building on the base.
His request to cancel the large building and construct a smaller one was supported by his superiors in Kabul. But when it was forwarded to the Army's Central Command headquarters, the deputy commander at the time, then-Maj. Gen. Peter M. Vangjel, denied the request, according to the investigation report.
Vangjel, the report stated, "relied upon the CENTCOM strategic vision of Camp Leatherneck and its criticality as an enduring strategic base."
Army officials also believed it was more efficient to cancel the request for the smaller building than the larger one because Congress already had appropriated money for the large facility. "It would be easier to modify or de-scope a requirement than start over on a new approval process," the report stated.
But instead of shrinking the plans, Mills's successors sought more amenities, including new furniture and video teleconferencing systems, which were readily provided by those managing the project. Last December, after the facility was fully built, the Marines asked for interior walls to be moved to make room for a larger conference table for the commander.

"Modifications were made to accommodate the requirement as perceived by each new commander," the report said.
The changes delayed completion of the facility by more than a year and nearly doubled the construction cost, from $13.5 million to more than $25 million. The overall price tag, when roads, security measures and communications equipment are included, is about $36 million, according to a tally conducted by Sopko's office.
Despite rejecting Mills's request, Richardson found "no act of omission, dereliction of duty or any other violation of law" by Vangjel or anyone else involved in the decision to construct the building.
Vangjel has since been promoted to a three-star general. He is now the Army's top inspector general, responsible for identifying waste, fraud and abuse in the service.
---
Propaganda fails in Afghanistan, report says
Source:
USA TODAY
By:
Tom Vanden Brook
A British expert says U.S. commanders are routinely conned by propaganda contractors.
WASHINGTON — U.S. propaganda efforts in Afghanistan have failed because of poorly designed programs by contractors who often propose expensive marketing solutions to U.S. commanders incapable of making informed choices, according to a study published by the Army's War College.
Examples of failed efforts, according to the paper, include a proposal to pay $6,000 dowries to Afghan men to keep them off the battlefield — a scheme that could have cost $4 billion. That project, ultimately rejected, fits into what the U.S. military calls Information Operations programs.
The dowry program and ineffective television ad campaigns "represent merely the tip of the iceberg: over the years, huge amounts of money have been spent on IO programs that are largely anchored in advertising and marketing style communication with little concurrent investment, it would appear, in detailed understanding of audiences and environments," the report concludes.
USA TODAY, in a series of reports since 2012, has found the Pentagon has spent hundreds of millions of dollars on poorly tracked propaganda programs. A government report obtained by the newspaper this spring showed the impact of the programs is unclear, and the military doesn't know whether it is targeting the right foreign audiences. These propaganda efforts include websites, leaflets and broadcasts intended to change foreigners' "attitudes and behaviors in support of U.S. Government" objectives, according to the report by the Government Accountability Office.
The author of the War College study, Steve Tatham, is the longest continuously serving officer in the British military's information activities. Tatham says contractors' attempt to influence attitudes "may work in convincing U.S. citizens to buy consumer products; it does not easily translate to the conflict- and crisis-riven societies to which it has been applied." It makes more sense, he says, to attempt to change problem behavior, for instance understanding why Afghan soldiers desert and addressing their concerns.
The military had no immediate comment on the report.
The dowry program dates to 2011 when a contractor persuaded a general inexperienced in IO campaigns that it "would take huge swaths of fighters off the battlefield by facilitating their marriages to eligible young Afghan women."
Tatham evaluated the plan for commanders and found it would "quickly exceed" $4 billion per year. He found a number of other problems, including the false assumption that many fighters were unmarried and the effect on Afghan men who didn't receive the payment.
"There is no empirical research to suggest that this is a sensible solution to deterring young men of fighting age from joining the insurgency," Tatham wrote. "Even if there were, it would be cost prohibitive and open to such widespread and pernicious abuse as to render it unworkable."
The program was canceled because of cost, he wrote.
Tatham notes that USA TODAY has been a "long-standing critic" of IO efforts. Because of the "persistently critical coverage," its reporting is often dismissed by the Pentagon's IO community. However, Tatham says, some officially sponsored studies echo at least some of the criticism.
He points to a 2012 study by Rand, a Pentagon-affiliated think-tank, and what he called its most important conclusion:
"… if the overall Information Operation mission in Afghanistan is defined as convincing most residents of contested areas to side decisively with the Afghan government and its foreign allies against the Taliban insurgency, this has not been achieved."
---