---
UN Announces Afghan Vote Audit Delay
Source:
Reuters
By:
Afghanistan's U.N. representative told President Hamid Karzai on Thursday that the audit of a disputed election would not be finished by Sept. 2, when Karzai had hoped to see a new leader inaugurated.
The United Nations is supervising the audit of votes from a run-off ballot between the two candidates, Abdullah Abdullah and Ashraf Ghani. Both men have claimed victory in an election meant to mark the country's first democratic transfer of power.
In a meeting with Karzai, U.N. envoy Jan Kubi told the outgoing president a "rigorous and credible audit required time, but could be completed around 10 September," according to a U.N. statement.
In a previous statement, Karzai had said the inauguration of Afghanistan's new president must take place a month after the original inauguration date of August 2.
"President Karzai is truly in a hurry for a quick conclusion of the election process," Karzai spokesman Aimal Faizi told Reuters. "He has already done his packing. He is exhausted, like many other Afghans."
The audit of votes hit a snag on Wednesday when Abdullah's team pulled its observers from the process, citing dissatisfaction with the way that allegedly fraudulent votes were being handled.
Ghani's team subsequently also withdrew its observers at the U.N.'s request.
"The audit must not only have integrity, it must be seen to be even-handed by all Afghans," U.N. deputy chief Nicholas Haysom told reporters on Wednesday.
The audit has continued under U.N. supervision, but the hiccup has sparked widespread concerns that a U.S.-brokered deal between the two candidates may be in jeopardy.
Talks on new government
Both teams said on Thursday that talks on forming a national unity government had not stopped.
"We are still discussing the unity government," Mahmoud Saiqal, a top aide to Abdullah told Reuters, adding that the candidates were scheduled to meet again on Thursday evening.
Determining how exactly that government will look may prove tricky, however, particularly when it comes to defining the role the election runner-up will play.
A deal brokered by U.S. Secretary of State John Kerry calls for the runner-up to nominate someone to a new, specially created post called "chief executive." That position would share control with the president over some key decisions, such as nominating the heads of the Afghan security forces.
"Our understanding of a 'unity government' is a national partnership, where political figures from both sides are represented," said Saiqal.
But Ghani's team said it was too soon to start determining what responsibilities and powers a chief executive would have.
"The role is impossible to define at the moment," said Daoud Sultanzoy, a senior member of Ghani's team. "There's no president [in office] to define it. Once the winner is announced, then it will be up to the winner."
Abdullah to reject result of Afghan election audit: spokesman
Source:
AFP
By:
KABUL: Afghan presidential candidate Abdullah Abdullah will reject the results of a UN-supervised audit of the election, his spokesman said Wednesday, tipping the country deeper into crisis a week before the scheduled inauguration.
"We will be out of the process, and any kind of result from the process will not be acceptable for Dr. Abdullah," his spokesman Muslim Saadat told AFP after Abdullah withdrew from the audit in a dispute over fraud.
The stand-off between Abdullah, a former anti-Taleban resistance fighter, and Ghani, an ex-World Bank economist, has threatened to revive ethnic unrest in Afghanistan as US-led NATO combat troops prepare to exit by the end of this year.
The United Nations moved rapidly to try to save Afghanistan's first democratic transfer of power by asking Ashraf Ghani, the other presidential candidate, also to remove his observers from the vote-checking process.
Jan Kubis, the UN representative in Afghanistan said "not possible" to finish an audit of a disputed election by September 2, Mr Karzai's office said.
The UN is supervising the audit of votes from a run-off ballot between the two candidates, Mr Abdullah and Mr Ghani. They have both claimed victory in the election intended to mark the country's first democratic transfer of power.
The deadline was abandoned despite a Nato summit in Britain next Thrursday and Friday that will consider future support for Afghanistan after the 13-year US-led combat mission ends this year.
Nato wanted a new president should be in place before the summit to prove that the country has becoming a functioning state after receiving billions of dollars of military and civilian aid assistance.
Mr Abdullah has formally withdrawn his backing for the review of all ballots that had been set up to resolve the stalemate over who won the June 14 election. Preliminary results suggested Mr Abdullah lost by a million votes to Mr Ghani, triggering accusations of massive electoral fraud.
Following Mr Cameron's calls, a Downing Street spokeswoman said: "He emphasised the enormous prize at stake for the Afghan people - to secure their democratic future - and that he hoped that the process could be completed by the Nato summit.
"The Prime Minister said that the summit represented an opportunity to reflect on the progress made in Afghanistan over the last 10 years and to look at how Nato allies could work with the new government to support Afghanistan in the future.
Mr Karzai, 56, who lives in the palace with his wife Zinat and their three children, is banned from standing for a third term in office and he often said that he is looking forward to retirement and to becoming a "citizen of Afghanistan" who is ready to help his successor if asked.
The withdrawal undermined a US-brokered deal in which both candidates agreed to accept the audit and for the winner to then form a national unity government.
Negotiations over the unity government have also struggled, while officials deny reports that some current ministers planned to break the impasse by setting up a "interim administration" to take power.
Karzai warns he will quit despite Afghanistan deadlock
Source:
The Telegraph
By:
Damien McElroy
Power vacuum looms for Afghanistan as UN delays date for result of presidential elections to mid-September despite Karzai's plans to leave office next week
Afghanistan faced the prospect of a constitutional power vacuum after Hamid Karzai, its president since 2002, warned that he would step down imminently despite a deadlock over his successor.
Mr Karzai said his bags were packed and he was determined to quit office as he presses for his successor to be sworn in on Tuesday. However the UN delegation in Kabul has said it will not declare the results of an audit of voting until September 10.
The announcement came hours after David Cameron demanded a power-sharing government to preserve the gains made in Afghanistan since the deployment of Nato troops during phone calls with Ashraf Ghani and Abdullah Abdullah, the rival candidates.
Mr Karzai has already taken over another house in the city and is already overseeing the transfer of his personal possessions.
"The president has packed up already, days ago," Aimal Faizi, Mr Karzai's spokesman said. "A lot of the furniture is staying as it belongs to the palace, but his personal belongings, everything and especially his books, which are very dear to him, are packed. He has a good collection of books, all kind of new and very old historic books - that is already put in cartons and they are all ready to leave the palace, but they haven't gone to the next place yet."
Afghan election result delayed again despite US pressure
Source:
AFP
By:
Kabul (AFP) - Afghanistan will not have a new president in time for a key NATO summit next week, officials said Thursday, as the country's prolonged election crisis lurched towards another damaging delay.
The latest deadline of September 2 was abandoned as a UN-supervised audit of all eight million ballots has fallen behind schedule, with both candidates still claiming victory in the fraud-tainted vote.
A NATO summit in Britain from September 4-5 is meant to agree on future support for Afghanistan after the 13-year US-led combat mission ends later this year.
But NATO members had repeatedly stressed a new president should be in place before the summit to prove that the country is becoming a functioning state after receiving billions of dollars of military and civilian aid assistance.
The United Nations released a statement saying that its mission chief Jan Kubis had told outgoing President Hamid Karzai "that a rigorous and credible audit required time, but could be completed around 10 September".
"Following all necessary steps, as required by law, the inauguration of the new President should then be possible soon after," it said.
The US had led a strong international effort to push for the next president to be inaugurated by September 2 to allow him to attend the summit.
Karzai, who has had a series of bitter spats with US-led military coalition, has confirmed that he will not go to Britain, though a senior minister may attend in his place.
NATO press officials in Kabul were not immediately available to comment on whether both Ashraf Ghani and Abdullah Abdullah, the two presidential candidates, could attend the event.
- Future aid at risk? -
The summit was meant to showcase the signing of a security pact that would allow a US-led NATO support mission in 2015 after all foreign combat troops depart by December.
The disputed June 14 election has sparked fears that protests could spiral into ethnic violence -- and even lead to a return of the fighting between warlords that ravaged Afghanistan during the 1992-1996 civil war.
Ethnic friction is a risk as Abdullah draws his support from Tajiks and other northern Afghan groups, while Ghani is backed by Pashtun tribes of the south and east.
The vote audit was part of a deal brokered by US Secretary of State John Kerry in which the candidates also agreed that the winner would form a national unity government.
Negotiations over the unity government have struggled, while officials deny reports that some current ministers planned to break the impasse by setting up a "interim administration" to take power.
With the Afghan government in paralysis for months, unrest has worsened nationwide this year with Taliban insurgents launching several major new offensives.
Civilian casualties soared by 24 percent in the first half of 2014, according to recent UN figures.
Abdullah led Ghani after the first round of voting in April but preliminary results of the run-off showed Ghani ahead by over one million votes.
Karzai, whose successor was first due to be inaugurated on August 2, has already packed up his personal belongings and library of books, ready to leave the palace, his spokesman told AFP on Thursday.
He has stayed publicly neutral in the election and is constitutionally barred from standing for a third term in office after serving since the austere Taliban regime was ousted in 2001.
Abdullah, who claims he was cheated out of victory in the 2009 election by cheating in favour of Karzai, on Wednesday pulled out the UN vote audit, saying it was failing to eliminate fraudulent ballots.
UN deputy mission chief Nicholas Haysom described Abdullah's withdrawal as "regrettable" but said the audit would continue.

Cash and Heaven: How Afghan War Victims are Compensated
Source:
VOA
By:
Akmal Dawi
The administration of Afghan President Hamid Karzai has spent more than $45 million from the national treasury over the last eight years to compensate civilian casualties of the U.S.-led war, although most were caused by Taliban insurgents.
Amid the ongoing drawdown of U.S. forces, day-to-day conflict remains a reality for many people in Afghanistan, where the death or injury of a household breadwinner can be catastrophic.
"For each martyred, 100,000 Afghanis [about $1,800] and ... 50,000 Afghanis have been paid [for each wounded]," Karzai spokesman Aimal Faizi told VOA Dari service, explaining that a total 12,212 payments have been allocated to families of "martyrs," with another 11,642 issued to wounded individuals.
But Karzai's condolence payments aren't limited to victims of military operations by pro-government forces, and they aren't restricted exclusively to cash remittances. A vast majority of recipients were harmed in Taliban attacks or U.S.-NATO counterinsurgency operations, and, moreover, the Afghan government's ad hoc sympathy program has funded Hajj pilgrimage costs of over 4,400 individuals, resulted in the distribution of land, facilitated the creation of educational scholarships and resulted in reimbursement for medical expenses.
But the government program hasn't reached every civilian casualty of the war. At least 15,628 civilian deaths — along with many thousands of injuries — were recorded by the UN from January 2009 to June 2014 alone.
U.S.-NATO payments
As the U.S. winds down the longest war in its history, civilian casualties resulting from U.S.-led counterinsurgency operations have dropped markedly. UN figures show only one percent of civilian casualties reported in the first half of 2014 — 1,564 deaths, 3,289 wounded — were caused by international forces.
The U.S. military's sharp reduction in the killing and injuring of Afghan civilians has, beyond the obvious political and moral advantages, palpable economic benefits. Fewer American taxpayer dollars are spent on civilian victims of anti-Taliban operations now than before.
While Kabul-based U.S.-NATO spokesperson Jennifer Bragg says the alliance doesn't have "centralized figures" to show how much it paid to compensate for civilian casualties over the past years, it was reported in 2011 that U.S. military had spent millions.
In one of the largest payments ever made, families of the 16 civilians shot dead by Sergeant Robert Bales on March 11, 2014 in the southern Afghan province of Kandahar, were each paid $46,000. In general, however, U.S.-NATO forces have paid $2,500 for every civilian killed and $1,000 for any one injured in their military operations.
Amnesty International has criticized the U.S. for its alleged failure in delivering justice to Afghan civilian victims. In a recent report, the UK-based human rights group accused U.S.-NATO forces of "killing thousands" of Afghan civilians and failing to bring those responsible to justice and accountability.
Taliban's promise of heaven
The UN figures attribute over 70 percent of all civilian casualties in Afghanistan to Taliban insurgents. Taliban's suicide attacks, improvised bombings and targeted assassinations account for most of the UN reported civilian casualties.
The insurgent group, however, rejects these reports and says its fighters only target pro-government Afghan and foreign forces, civilian government employees and contractors.
In very rare cases when Taliban acknowledged civilian casualties, the group issued tersely worded regrets, saying the victims were "martyrs" who would be rewarded by Allah in the heavens. Although Diya, or blood money, is obligatory in Islamic jurisprudence, the militant organization does not pay civilian victims — killed or injured.
According to the UN reports, Taliban insurgents have caused more than 11,000 civilian deaths, and wounded thousands more, over the past five years. If Afghan government standards for civilian casualty compensation — $1,800 for each death; $900 for each wounded — applied to Taliban militants, the group would owe millions in financial payments to Afghan families.
Afghan historic minaret of Jam 'in danger of collapse'
Source:
BBC
By:
Mohammad Qazizada and Daud Qarizadah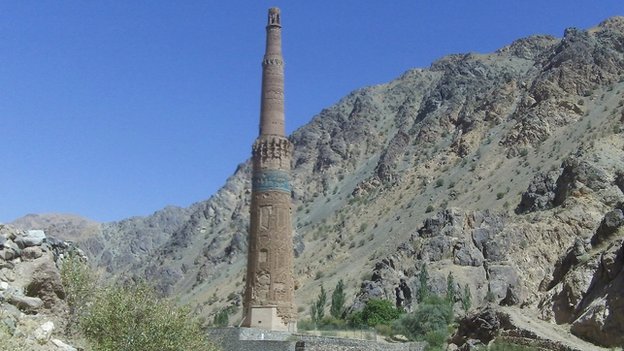 There has been no extensive restoration work of the Jam minaret since it was built 800 years ago

One of Afghanistan's architectural marvels, the minaret of Jam, is in danger of collapse, officials warn.
Centuries of neglect and frequent floods are threatening the 800-year-old structure in remote Ghor province.
The 65m (213-foot) monument - thought to be the world's second-tallest brick minaret - is already on the UN list of world heritage sites in danger.
But officials have told the BBC that there is not enough money to protect it and more flooding could bring it down.
The biggest threat to the Jam minaret is posed by its position in a river valley among high mountains.
Officials say that last year's floods caused major damage to the base.
They say a new supporting wall has been built and other stabilisation work has been carried out, but not enough to secure the site.
The circular minaret is famous for its intricate brick work and geometric decorations and inscriptions.
But local officials told the BBC that 20-30% of the decorative brick had fallen off and that the minaret was leaning.
Few visits
Erosion of the nearby river bank and illegal excavations are considered the biggest threats to its stability.
But no extensive restoration work has ever taken place since the minaret was built in 1194, according to Unesco, the UN's cultural organisation.
Once a famous destination for international tourists, the site is now rarely visited, because of security threats in the region.
Cultural activists in Ghor say they want the next Afghan president to visit the minaret and step up efforts to preserve it.
Decades of war have made the preservation of Afghanistan's rich heritage a huge challenge.
The most famous examples are the Bamiyan Buddhas, blown up by the Taliban in 2001. Thirteen years on, no decision has been made about what should happen to that site.
---