---
Afghan survivors of Ganjgal battle dispute official account of Medal of Honor feats
Source:
McClatchy Newspapers
By:
Jonathan S. Landay
ASMAR, Afghanistan — Nine Afghan soldiers who survived a 2009 battle that brought the first Medal of Honor to a living Marine since the Vietnam War have disputed the official accounts of how Marine Sgt. Dakota Meyer won the country's highest military decoration.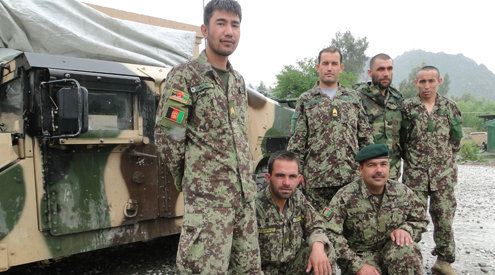 The Afghans, whom U.S. military officials never interviewed , contradict key details of the narratives cited by President Barack Obama and the Marine Corps in awarding the decoration to Meyer for his actions during a battle that took place in the Ganjgal Valley in Afghanistan three years ago this past weekend.
The Afghans said that Meyer, who received the Medal of Honor in a White House ceremony on Sept. 15, 2011, couldn't have killed up to eight insurgents as they charged his Humvee and that he didn't twice vault from the vehicle to load up two dozen Afghan soldiers and drive them to safety. They also insisted that it was the belated arrival of U.S. helicopters – not Meyer's intervention – that ended the Taliban ambush, allowing the withdrawal of U.S. and Afghan troops who'd been trapped in the valley.
The Afghans didn't dispute that Meyer, of Greensburg, Ky., who's now a 24-year-old sergeant in the Marine reserves, risked his life by braving enemy fire in helping U.S. and Afghan personnel recover the bodies of four American servicemen.
Questions about what Meyer did during the battle touch on the rigor and integrity of a military awards process that's supposed to leave no margin of doubt or possibility of error in granting the nation's highest military honor. A McClatchy investigation published last December showed that many of the feats attributed to Meyer by the Marine Corps and the White House were embellished or invented and weren't substantiated by sworn statements from Meyer himself and others who participated in the battle.
McClatchy raised more questions about the process in August, when it revealed that another Medal of Honor nomination from the same battle, for former Army Capt. William Swenson, conflicted with parts of the official narratives of Meyer's achievements.
Swenson's nomination mysteriously disappeared from military computers, though it was reinstated eventually and is awaiting Obama's approval. Under normal circumstances, according to Pentagon regulations, that approval had to come by last Saturday, the third anniversary of the battle, but Pentagon officials say that because the original nomination went awry the president has two more years to make a decision.
Questions about whether the Marines embellished Meyer's feats came against a backdrop of pressure on the Pentagon over how Medals of Honor have been handled during the wars in Iraq and Afghanistan, with many in Congress, veterans groups and the military complaining that too few had been granted. The Marine Corps reportedly also was frustrated by what it saw as insufficient acknowledgement of its sacrifices in both conflicts.
The Afghan survivors of the battle, however, have no stake in the outcome of discussions of Meyer's feats, making their recollections valuable in sorting through conflicting information.
More is at stake than the military awards process. Meyer's forthcoming book, for which he shared a six-figure advance, according to a publishing industry executive who requested anonymity because he wasn't authorized to discuss it, contains new details about his actions, according to a report Aug. 20 in the Marine Corps Times, which obtained an advance copy of the book. They include a claim that Meyer killed an insurgent with a rock in hand-to-hand combat, something that isn't mentioned in any official account or military document.
Meyer, responding Tuesday in a telephone interview to the Afghan survivors' recollections, said, "I don't care what Afghans say. They don't speak the same language."
He said that he'd killed insurgents during his runs into the ambush zone but didn't count how many. "Where did you ever have me saying numbers?" he asked. When he was told that an account attributed to him published on the Marine Corps' website said he'd "killed at least eight Taliban insurgents," he replied, "You should talk to the Marine Corps."
The Marine Corps remained adamant in the defense of its account of Meyer's actions.
"Two comprehensive investigations, eyewitness statements, a command inquiry and other supporting documents present clear, compelling and well-documented justification that Sergeant Meyer deserves our nation's highest military honor," a Marine Corps statement said. "Any attempt to denigrate Meyer's bravery or the merit of his Medal of Honor is regrettable."
The Ganjgal battle produced a raft of other decorations for bravery after as many as 60 Taliban insurgents ambushed some 90 Afghan troops and border police, their American military trainers and a McClatchy correspondent who were on a patrol to meet village elders. Ten Afghans, three Marines and a U.S. Navy medic were killed, and a wounded U.S. Army sergeant died a month later.
The battle also resulted in reprimands for dereliction of duty for two Army officers, for failing to call in timely air, artillery and ground support.
Meyer wasn't among those caught in the ambush; he arrived as the recovery operation began. He was nominated for the Medal of Honor for helping to recover casualties at the risk of his life.
The McClatchy correspondent who was embedded with Meyer's unit of Marine trainers at the time of the ambush interviewed the nine survivors from the Afghan National Army's 1st Kandak, 2nd Infantry Brigade, 201st Corps, in Kabul, in the eastern city of Jalalabad and at a small U.S.-Afghan base in Asmar, a mountain backwater in insurgency-wracked Kunar province, about 30 miles north of Ganjgal.
The men, none of whom had heard of Meyer's Medal of Honor, spoke with permission from the Afghan Ministry of Defense. They were aided in their recollections by overhead photographs of the U-shaped valley of descending terraced fields divided by waist-high stone walls, and a Google Earth topographical model of the battlefield constructed by a military professional using date, time and location data obtained from digital pictures shot during the ambush.
The Afghans differed on some details, such as the timing of some developments. Several explained that they were illiterate and couldn't read a watch.
All nine, however, were consistent in saying that the belated arrival of U.S. helicopters forced the insurgents to withdraw, allowing the pinned-down Afghan and American troops to pull back.
"The arrival of the helicopters had a 100 percent impact on the enemy," said Maj. Talib Khan, 54, of Kabul, who was the senior Afghan officer caught in the ambush. "It was because of the firing by the helicopters that we were able to evacuate our wounded."
His version was backed by Nematullah, a 30-year-old private from Fakhar, in northern Takhar province, who suffered three gunshot wounds to his abdomen. Nematullah uses just one name, like many Afghans.
"When the air support arrived, everyone who'd taken cover behind the rocks or terraces was able to leave the valley," he recalled. "The helicopters saved us."
Several of the Afghans disputed the official accounts that Meyer had jammed two dozen Afghans into his vehicle during two runs, saying there weren't that many where the Humvee had stopped.
One, Afghan Army Sgt. Ataullah, 29, said he clearly recalled what had taken place. He was gravely wounded in the ambush, with a cheek slashed open by a Taliban bullet and a scarf knotted around a thigh to stanch bleeding from another, when a Humvee roared up.
As gunfire sparked around them, a Marine jumped from the vehicle, "picked me up and drove me to safety," he said. But Ataullah contradicted the official version, saying his rescuer was Marine Gunnery Sgt. Juan Rodriguez-Chavez, not Meyer.
"He worked with me in HQ (headquarters) Company. He got off the Humvee and put me in it," Ataullah said. "The driver got out. The other guy (Meyer) was in the turret, firing . . . a .50-caliber machine gun."
Five days later, Ataullah said, Rodriguez-Chavez visited him as he recuperated from his wounds in a U.S. clinic, and "he asked me how I was doing and how I was feeling."
McClatchy asked Marine Corps Public Affairs to make Rodriguez-Chavez available for questions, but it said he declined to be interviewed.
All nine Afghans said Meyer couldn't have killed up to eight Taliban as they charged his vehicle on a third run.
Afghan troops advancing into the valley with the U.S. helicopters' belated arrival recovered only two enemy bodies, they explained, and several said that both had died before Meyer and Rodriguez-Chavez drove in. One was found next to the rock-strewn wash that provides the only drivable track between the walled terraces, and the other was recovered from a terrace nearer to the village.
Nematullah, a rocket-propelled grenade gunner who'd exhausted his ammunition, related how the pair of insurgents – he said he saw the bodies at his base later that day – confronted him after they'd made their way down the southern valley slope as the ambush raged.
"They saw me . . . and I pointed the empty rocket launcher at them. They were more cowardly than me. When I pointed the empty rocket launcher at them, they dropped to the ground," he recalled. "I ran from there. I was wounded, but I could still run."
"I didn't see any Taliban on the track," asserted Sgt. Mohammad Gul, 26, of Sayed Karam, in Paktia province, who helped retrieve casualties after spending most of the ambush guarding vehicles with Meyer and Rodriguez-Chavez about a mile from the village.
Gul said he drove an unarmored light Ford truck ahead of Meyer and Rodriguez-Chavez on the first run into the ambush zone, and he returned numerous times. "The Taliban did not fight close to the track," he said.
Capt. Mohammad Sharif, an intelligence officer who wasn't involved in the battle, said the two dead insurgents were from Ganjgal and that he'd delivered their corpses to local officials, who returned them to their families.
U.S. special forces and Afghan troops found no other bodies during a house-to-house search of the village after the battle, said Sharif, who added that the Afghan force remained in the hamlet until the following morning.
All nine Afghan survivors said there weren't any Taliban fighting close to the track who could have charged Meyer's vehicle during the casualty recovery operation. To begin with, they recounted, there were U.S. helicopters overhead, firing at any insurgents they spotted.
"There were no Taliban down in the valley," said Arab Khan, a 29-year-old private from eastern Panjshir province who was on the southern slope in an "overwatch" position, exchanging fire with insurgents on hilltops. "I didn't see any Taliban down on the track. At that point, the helicopters were above the valley. The Taliban wouldn't have dared move."
Many Afghan and American troops escaped down the rocky wash on which Meyer and Rodriguez-Chavez drove in, and they would have been shot by any Taliban fighting there, the survivors said.
"There was no enemy to our rear," Ataullah said. "There were only friendly forces behind us."
---
Afghan soldiers recount 4 U.S. troops' heroic deaths at Ganjgal
Source:
McClatchy Newspapers
By:
Jonathan S. Landay
ASMAR, Afghanistan — Crouched in a trench as the torrents of enemy fire briefly ebbed, the Afghan officer and his American mentor took stock: Their ammunition was low, their calls for air and artillery support had been denied and the Taliban were closing in. Now was a good time to withdraw, they decided.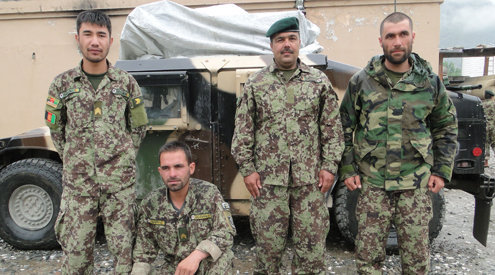 "Lt. Johnson told me that my guys should go first . . . and he'd follow," recalled Afghan Army Capt. Ruhollah Ayar. "I told him that if we all stand and push back, the enemy will fire at us. He told me, 'Go first and we will follow.' "
Ayar reluctantly agreed. Then he and his men bolted, scattering down the terraced fields of the Ganjgal Valley. Marine 1st Lt. Michael Johnson, two other Marines and a Navy corpsman stayed behind, blasting covering fire for the retreating Afghans from the trench in which they would shortly die.
Johnson and his team members each received Bronze Stars posthumously for their actions in battle, but the details of what took place before the four died had been undisclosed until Ayar spoke this spring to a McClatchy reporter about the events of Sept. 8, 2009, when the Taliban ambushed a joint American-Afghan patrol in the Ganjgal Valley. The resulting battle gave rise to the first Medal of Honor granted to a living Marine since the Vietnam War, an award whose official accounts have since been questioned by McClatchy because of conflicting testimony over whether Marine Sgt. Dakota Meyer had performed some of the deeds attributed to him.
Pentagon investigators didn't talk to Ayar or the other Afghans who took part in the battle. If they had, they would have heard a heroic tale of the four Americans trying to hold back encroaching insurgents as the Afghan troops scrambled to safety down the furrowed, rock-strewn terraces. One of the feats for which Meyer was awarded the Medal of Honor was recovering the bodies of the four Americans. Former Army Capt. William Swenson also was nominated for the medal, which President Barack Obama has yet to approve, in part for helping to recover the bodies.
"Everyone was taking care of himself," recalled Pvt. Nematullah, 30, of Farkhar, in northern Takhar province, who survived three bullets in the abdomen in the battle. "Every one of us was trying to find cover somewhere to protect ourselves."
Johnson, 25, of Virginia Beach, Va., Staff Sgt. Aaron Kenefick, 30, of Roswell, Ga., Gunnery Sgt. Edwin W. Johnson, 31, of Columbus, Ga., and Navy Hospitalman 3rd Class James Layton, 22, of Riverbank, Calif., were members of the Marine unit that was training the Afghan National Army's 1st Kandak, 2nd Infantry Brigade, 201st Corps. Their mission was to accompany Ayar's men through the mountainside hamlet of Ganjgal to a position on a slope at the end of the U-shaped valley. From there, they were to provide security as other Afghan troops searched the compounds of rock and dried mud, and held a prearranged meeting with tribal elders to discuss aid projects.
But as Ayar, his men and their U.S. mentors reached the first house by the track that winds through the village, some 50 to 60 insurgents hiding inside homes and on the overlooking slopes opened fire. It was 5:30 a.m. and the middle of Ramadan, the Muslim month of prayer and fasting.
Nematullah and another Afghan, Sgt. Ataullah – both use only one name, like many Afghans – said in separate interviews that they were with Kenefick and Layton at the head of the column when the gunfire broke out. The four hit the ground near the first house.
"It was a mud house," remembered Nematullah, who was toting six rocket-propelled grenades and a launcher. "It didn't provide enough protection. If they (the insurgents) had hit it with a rocket, it would have gone through the wall."
Gunfire was spitting from nearby compounds as insurgents maneuvered to cut off the group.
"I was looking for Ataullah. I didn't know where he went. Then I saw him with the two Americans talking on the radio next to the wall, taking cover," Nematullah continued.
"We could not see the enemy, but the enemy could see very clearly that we were lying on the ground," said Ataullah, 29, who's from northern Takhar province. He turned to Kenefick and Layton to consult in broken English and hand gestures. "I told them that we should push back. They said to me that helicopters would come and drop smoke and then we'd push back."
Ayar, nine of his men and the Johnsons were firing from a terrace below the front of the house. Listening to Michael Johnson's radio calls for support, Ayar wondered how much longer it would take the nearby U.S. Army base to order in the helicopters and artillery fire that were promised earlier.
"I told Lt. Johnson, 'You said we'd have air support here. You said we'd have artillery support. Where's the air support and where's the artillery support?' " Ayar recalled. "He told me, 'We may not have air support, but we may get artillery support.' "
"I told him that we should receive artillery support so we can get out of this open area, to get out of the battle zone. He told me, 'Fucking Army.' " Two Army officers would be reprimanded later for failing to provide the support.
Ayar repeated that they should pull back. " 'No, we won't push back. . . . We're not authorized to push back,' " Ayar quoted the Marine as saying. "But after 10 minutes, he said, 'You're right, we're moving back.' "
Ayar was worried about abandoning Kenefick, Layton, Ataullah and Nematullah. But Johnson said they'd stay, providing cover fire until the four could pull back. He gave two magazines to Ayar, who'd exhausted his ammo.
Finally, Ataullah, who'd cinched a scarf around a thigh to stanch a bleeding wound, Nematullah, Layton and Kenefick were able to dash around the side of the house, and the entire group dropped back into the trench.
Johnson told Ayar to go first. Ayar instructed his men to go and he'd follow. But they balked, he said, "scared . . . that they'd be shot."
"They wouldn't move. So I had to go first," Ayar said.
The Afghans scattered, jumping down the 4-foot stone walls dividing the terraces. Ayar, Ataullah and three others ran straight. Nematullah, his RPGs gone, spun left, taking refuge behind boulders in the shadow of the southern hillside.
Ayar spied an abandoned light machine gun and went to pick it up, as a bullet had damaged his own weapon. But a hammerlike blow just above his left hip drove him to the ground.
"When the bullet hit me . . . it made a shocking noise. I thought I had lost my leg," he said. "By Allah's grace, it didn't hit a bone. Lt. Johnson saw me get shot. He was watching me."
That was the last time Ayar saw Johnson. But he continued to hear Johnson and his team as they struggled to keep at bay the men bent on killing them.
"They were firing at the Taliban," Ayar said. "I heard them firing for one or two minutes. I didn't hear them firing after that."
McClatchy special correspondent Ali Safi contributed to this report from Asmar, Afghanistan.
---
For reporter, no doubt: 'I'd use the rifle if I had to'
Source:
McClatchy Newspapers
By:
Jonathan S. Landay
GANJGAL, Afghanistan — Getting separated from the others may have been a blessing in disguise.
As I lay in the dirt and rocks, the sharp needles of dry nettles pinching my palms and backside, three men in the group I'd been with were injured.
Marine Maj. Kevin Williams of Louisville, Ky., took a bullet in his left forearm. Marine 1st Sgt. Christopher Garza of Houston suffered a near total loss of hearing and a serious concussion from a rocket-propelled grenade explosion. U.S. Army Sgt. Kenneth W. Westbrook of Colorado Springs, Colo., was gravely wounded when a bullet gouged his right cheek and then tore into the base of his neck.
Had I bolted with them, I, too, might've been killed or wounded.
Only Army Capt. William Swenson, of Seattle, and Marine Lt. Ademola Fabayo, of New York, were unscathed and able to defend themselves and their wounded comrades from the insurgents who were moving down a hillside toward them.
At one point, Swenson said later, two insurgents wearing helmets and flak vests called on the five Americans to surrender. He responded by hurling a hand grenade at them.
I finally sprang up from the furrow where I was lying and weaved and dodged my way back to where I'd last seen the others. I dove behind a stone wall and nearly landed on top of the bleeding Westbrook.
In between dry heaves, Garza kept shouting questions about the condition of other Marines. He demanded to be allowed to go find three Marines and a Navy corpsman who were missing and feared dead. Williams, dizzy with pain, alternately reassured him and ordered him to stay put, forced to shout because Garza could barely hear.
Westbrook lay on his back as Swenson, his friend and boss, pressed a field dressing to his neck. With his other hand, Swenson called the locations of insurgents into his radio. He then would take time to calm Westbrook, telling him that his wound wasn't fatal and trying to bolster his spirits by teasing him that he was being overly dramatic.
As bullets zapped above and around us, Fabayo grabbed the wounded Westbrook's M-4 and threw it to me.
"This is your rifle now," he yelled. Then he turned to fire bursts from his own rifle.
It took a few seconds for me to decide that I'd use the rifle if I had to save my life and the lives of the others.
During that brief interlude, I remembered the time I talked to my friend and colleague, Joe Galloway, about his decision to use his M-16 when North Vietnamese soldiers were about to overrun a battalion command post in South Vietnam's Ia Drang Valley in 1965.
Joe said he hadn't hesitated, for the same reason that I now knew I wouldn't: There was no choice.
It never came to that. Instead, it was time to move again when the insurgents' fire slackened with the approach of two U.S. helicopters. I slung Westbrook's M-4 around my shoulder, grabbed him under his right armpit with my left hand and used my right hand to press the blood-soaked field dressing on his neck wound.
We couldn't run, so we stumbled.
Someone on his other side was helping to carry Westbrook. I thought it was Fabayo, but I wasn't sure. A medevac helicopter was landing, and for a few seconds, I thought with relief that we'd be able to walk-stumble the wounded sergeant to the landing zone on a terraced field about 50 yards away. Westbrook's a stocky man who wouldn't be easy to carry, even under normal circumstances.
Then the insurgents started shooting at us again. We lowered Westbrook as gently as we could behind some cover and lay behind it ourselves. He was in great pain and cried out. I glanced at my left sleeve and saw that it was streaked with his blood.
When the firing slackened again, we resumed trying to get Westbrook to the landing zone. We begged him to help us by pushing himself to his feet while we pulled.
He cried in agony, but he got up.
The three of us started stumbling toward the landing zone again. Then we realized that we were below the landing field, and that we'd have to heave him up the stone wall of the terrace. He was passing out, unable to help us this time. Someone joined us. And then someone else.
I couldn't tell who they were as the wash from the incoming helicopter's rotor blades whipped up a hurricane of dirt and stones and straw.
We held onto Westbrook's uniform as we manhandled him up the wall through the clouds of stinging debris. Then soldiers appeared at the top. They grabbed him and carried him to the helicopter.
I still had Westbrook's rifle over my shoulder, dragging against my half-filled Camelbak water container. I asked one of the U.S. reinforcements who were now arriving to put the safety on for me. I'd learned several days earlier how to fire an M-4, but I was taking no chances. The soldier pulled the magazine out, ejected the round from the breech and handed it back.
Williams, Garza and I made our way slowly down to an aid station, where medics treated the two wounded men. We then were placed in hulking, armored MRAPs, me in one and them in another, and driven back to U.S. Forward Operating Base Joyce.
I'd thought briefly about accompanying Swenson and Fabayo as they jumped into vehicles to retrieve the dead and wounded from the battlefield. Somehow, I felt I'd be abandoning them if I didn't. Williams, however, rightly said that the only place I was going was back to the base.
Once there, I sat in the aid station watching medics attend to Williams and Garza and trying to comfort an Afghan interpreter who was weeping over the death of Williams' interpreter, a close friend. As I sat beside him, hugging his shoulders, it was hard holding back my own tears.
I wandered over to the command center, anxious to find out what had happened to Swenson and Fabayo. A hulking sergeant major saw Westbrook's weapon and stopped.
"Sir, I'll take that," he said in a voice honed by years of giving orders.
To Listen to the Interview -